10 Of The Best Places To Shop For Organic Sheets

Looking for the best places to shop for organic sheets? We've found 10 of the best!
By Chiara Spagnoli Gabardi
We spend so much time thinking about what we wear on our bodies. But…what about what's on our beds?
Much of our time is spent in bed (or at least, mine is!). So it's an important place for us. We should make our beds comfortable, natural and healthy. And an easy way to do this by knowing where to shop for organic sheets.
Natural, safe, and nontoxic bedding can be found now in more places than ever before. Sustainable brands will use eco-friendly materials, including organic cotton, linen, and TENCEL. And you know that if a brand cares about their fabrics, they'll be more likely to care about the wellbeing of their employees, too. So, these sustainable brands below are also ethical brands!
Here are 10 of the best places to shop for organic sheets, below.
But first, get to know what kinds of sheets are on offer.
Different Kinds Of Non Toxic Sheets
Jersey
Sateen
Flannel
Percale
What Does 'Thread Count' Refer To?
10 Places To Buy Non Toxic Bedding
Mattress industry leader Avocado is rounding out its incredible home goods with bedding. Made of GOTS certified organic linen, hemp, or cotton, you can find the best organic sheets, pillowcases, duvet covers and inserts here, all of which are fully climate negative. And if you're looking to splurge, we suggest the organic superfine bedding sets crafted with 1,000 threads per inch. Meticulously made and incredibly comfortable, try this B Corp's bedding out for 100 nights or your money back. Avocado is also MADE SAFE & Fair Trade Certified.
Best for: Affordable luxury sheets.
Materials: 100% organic cotton, linen or hemp.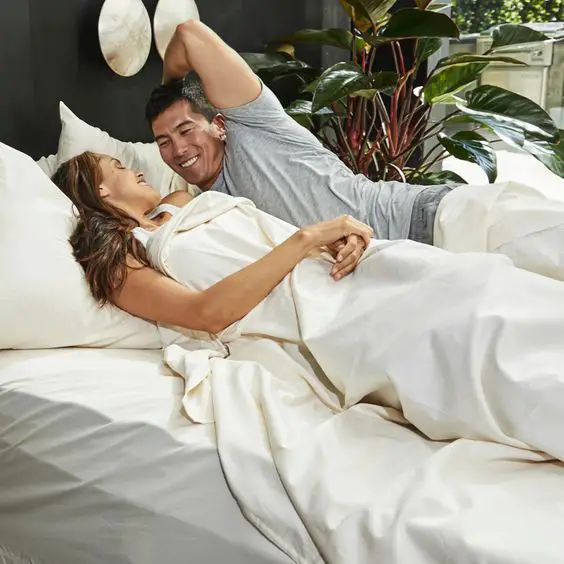 Ariel Kaye, Founder of Parachute, started her company with the goal of offering products that could create a happier home and cleaner planet.
Her Earth-friendly materials, ethical manufacturing and carbon offset projects accomplish win-win situations for us all. We think Parachute is one of the best places to shop for organic sheets because they feel SO good against the skin, and come in so many colours.
Best for: Trendy bedding hues, sustainably achieved.
Materials: Linen, organic cotton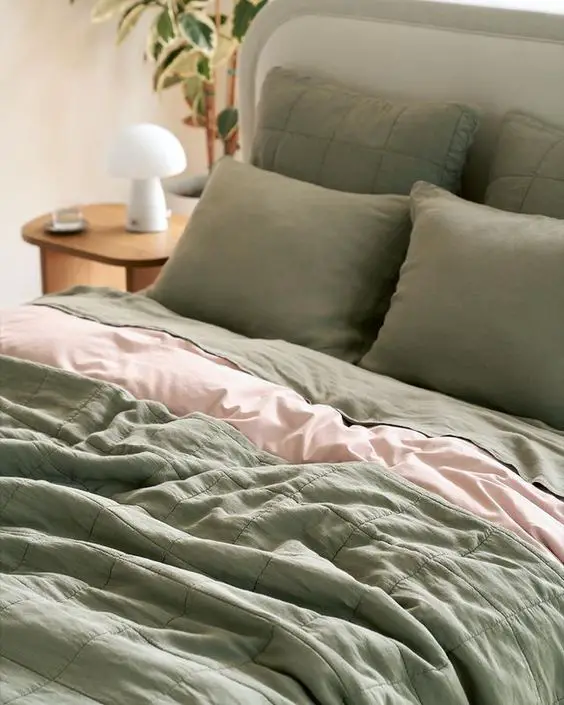 This brand underlines how they don't just claim sustainability – but certify it, too! That's thanks to the SimpliZero scheme, which measures the impact of every single Pact product. And there are plenty of products to choose from! Pact is best known for its sustainable fashion, for women and men alike.
But let's talk about why this is also one of the best places to shop for organic sheets. Pact's natural, breathable, and hypoallergenic materials feel as delicate as silk, but are as sturdy as hemp. They look undeniably luxe, and will make a great addition to your non-toxic bedroom.
Best for: A buttery soft feel against the skin.
Materials: Organic cotton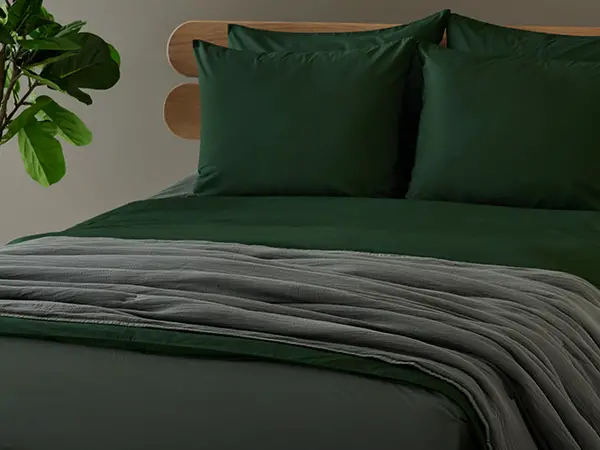 Have you ever heard of percale? This is fabric making method that's been used for centuries. Basically, it's a 'plain' or 'basket' weave that involves putting one thread over and one thread under. This technique gives the fabric its strength and durability, as well as a a crisp feel.
Under The Canopy makes percale sheets from organic cotton. But that's not the only material they use! You can also select from textiles like TENCEL, linen eucalyptus and flannel. There are loads of colours to choose from, and each item is created using the lowest-impact dyes around.
And the best part? Their products are very affordable, since the company believes that home luxuries should be made available for all kinds of pockets.
Best for: Something ethical and affordable
Materials: Organic cotton, TENCEL, eucalyptus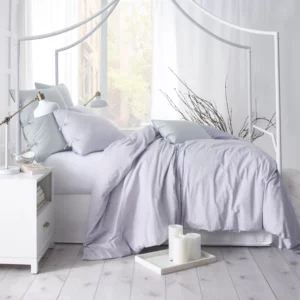 This popular sustainable furniture brand has always had a keen eye for quality products. Whether you're looking for designer rugs made of naturally dyed wool or a room-defining, cotton upholstered sofa, you'll find it here.
But it's also one of the best places to buy organic sheets and bedding. There are plenty of fabrics to choose from. And no matter what you select, rest assured it will have zero harmful chemicals, dyes or toxins. Their sheets also come with Fair Trade Certification.
Best for: A wide selection of styles and colours.
Materials: Organic cotton, TENCEL, flax linen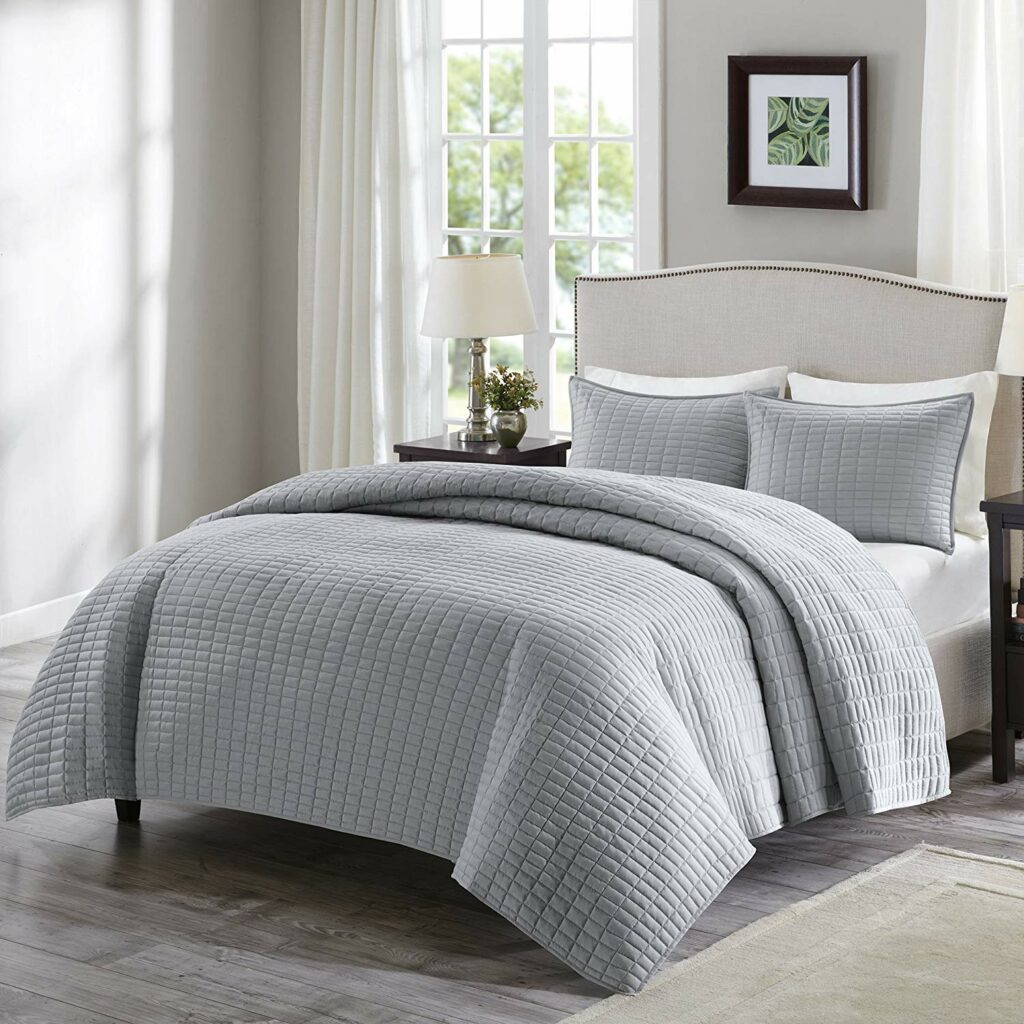 Once upon a time, people referred to bedding as 'linens'. And for good reason – that was the main fabric it was made of. Still today, the citizens of many European countries prefer this breathable fabric to sleep on. It takes up colour so easily, chemical dyes are not needed. And it cools the body perfectly when the temperatures rise.
So no wonder The Citizenry has focused on this fabric, making it one of the best places to shop for organic linen sheets. But of course, there is another option here: organic cotton, too!
Best for: Hotter climates
Materials: Linen and organic cotton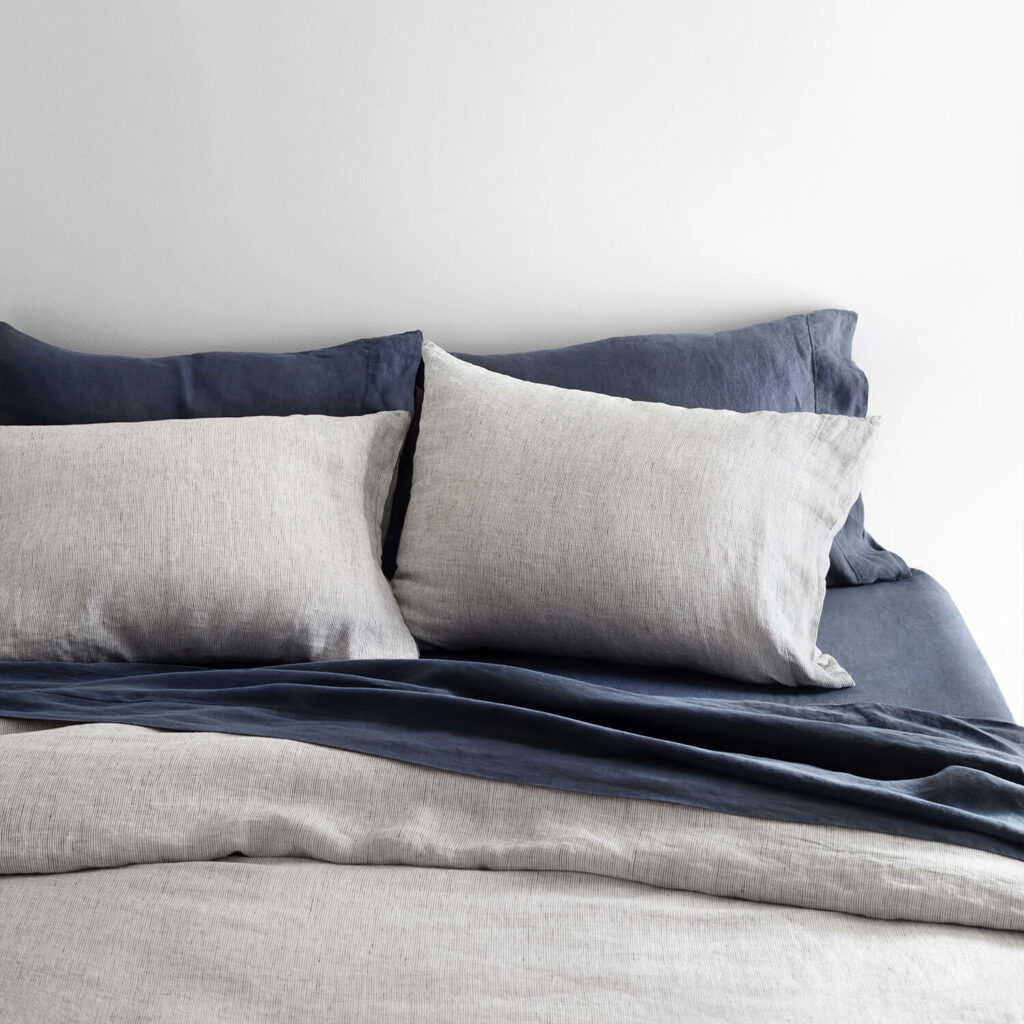 Since 1991, Coyuchi has been crafting premium organic home goods that "connect people to the raw power and beauty of nature." They do so by using natural materials like organic cotton and linen.
While some might find such raw, plant based fibres a bit rough, Coyuchi finishes their materials  with miDori bioSoft, a USDA certified biobased softener that naturally enhances the smoothness of premium organic cotton.
For example, if you pick their organic cotton flannel bedding sets you'll be amazed by how it is thicker, warmer, and more durable than your average flannel. The nature-friendly textile is both performative and delicate on the skin and will undoubtably keep you warm and cosy during your winter nights.
Best for: Those who have sensitive skin.
Materials: Organic flannel
Need a really good, relaxing sleep? You'll find it in Alva's sheets! They come in a variety of nuances and have a timeless design, with a satin weave creating a soft and smooth touch with a beautiful shine.
They come in a wide variety of colours, and we particularly love their piped pillow cases.
Best for: Matching your sheets perfectly to your bedroom's colour palette.
Materials: Organic cotton.
Looking for the best places to shop organic sheets that are a bit high tech? Sijo is happy to oblige!
Their AiryWeight™ Cooling Eucalyptus Bedding is light, yet warm and comes in seven hues. This fabric is anti-bacterial, moisture-wicking, and hypoallergenic. It ensures your body is at just the right temperature in summer, and comfortably warm in winter.
Best for: Picky sleepers
Materials: Eucalyptus TENCEL
Quince makes sheets that are so comfy, you'll have a hard time keeping the cat or dog off the bed! They come in a wide variety of colours, finishes and styles. So you can choose from anything from super soft bamboo (which feels like flannel) to rougher linen, in over 15 hues.
Quince also offers great deals on full sets: i.e. pillowcases, fitted, and flat sheets. Of course, matching duvet covers are also on offer.
Best for: Purchasing as a set.
Materials: Organic bamboo, linen, organic cotton.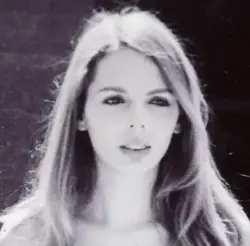 Based in Italy, our Features Writer Chiara is also a film critic and an award-winning artist, with a special interest in eco-friendly art. She has spoken on television, radio and podcasts about everything from vegan fashion to Italian film. You can see her work and learn more about her
here
.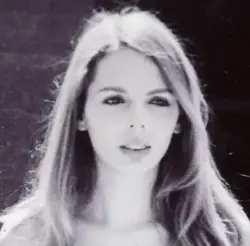 Latest posts by Chiara Spagnoli Gabardi
(see all)