The Vacationist From Skoolie Stays: An English Eccentric
The Vacationist from Skoolie Stays offers English eccentricity in an eco-friendly holiday home
By Diane Small
We all know that travelling can have a negative impact on the environment. But when you're vacationing at a conscious spot like The Vacationist from Skoolie Stays, that impact is a lot lower. 
Located in the middle of a verdant meadow in the UK's West Sussex countryside, this ecological wood cabin used to be a hay bale trailer. It combines sustainability, luxury and relaxation.
And it also provides a lot of home decor inspiration! Particularly its use of sustainable wood throughout the structure.
For example, the cabin features stunning flooring by Havwoods, and is clad with a wooden exterior, too.
But it's not just the wood that is sustainable in The Vacationist. Skoolie Stays also made other Earth-friendly and off-grid choices, including:
sheep's wool chosen for the insulation

solar panels installed on the roof to keep the cabin cosy in winter

water-saving technologies

a bio ethanol burner

infrared heating, which successfully runs off solar panels.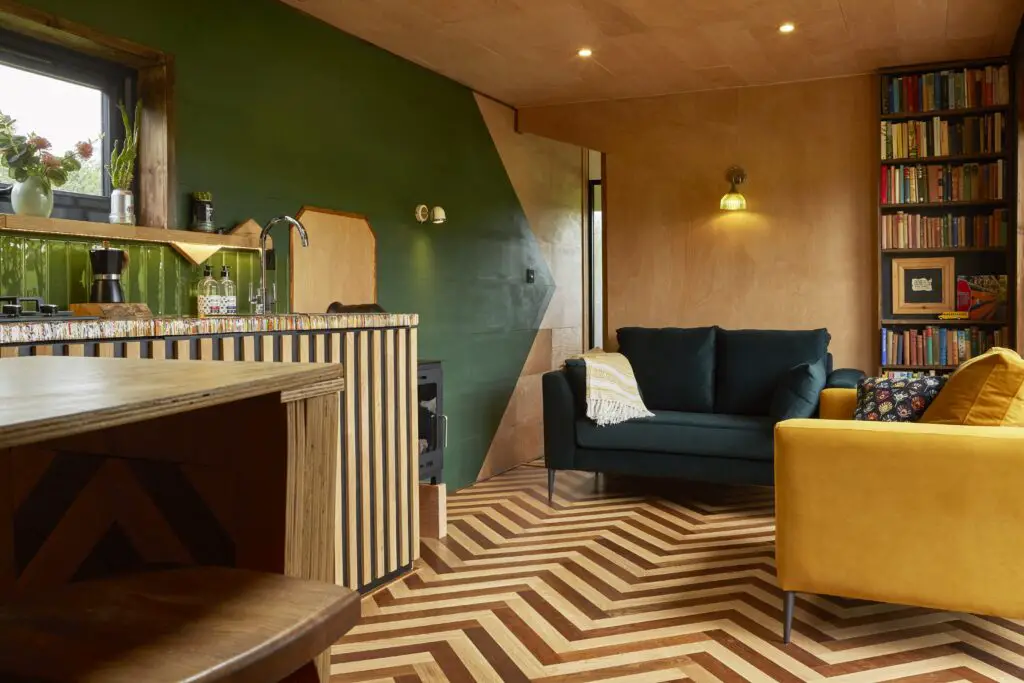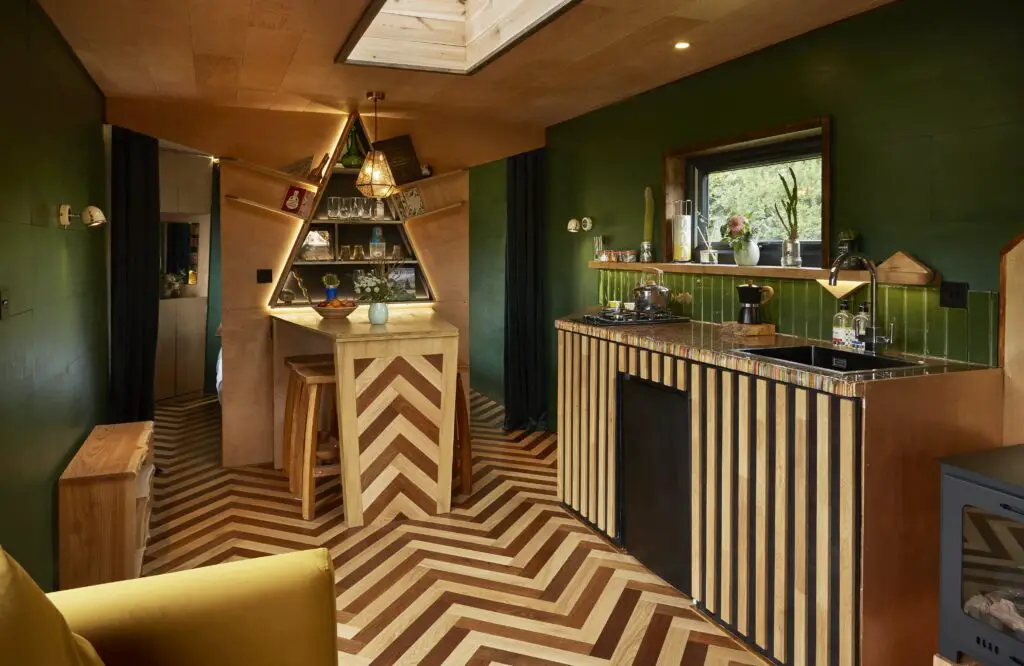 About Skoolie Stays
It's a pretty unusual name, right? But it's quite fitting when you consider the history of how Skoolie Stays launched their first small business.
When taking a family gap year in the USA, this British family lived in an American school bus. Living off-grid, getting closer to nature and to each other, was such an incredible experience, and so positive for their physical and mental health, they decided to ship a bus over to the UK to replicate it. Together, the family converted it themselves into an off-grid, tiny home. But this time, it was to share with others.
Today, the bus – called Skoolie Stays, of course – is a popular eco-holiday choice for British 'staycationers' and foreign tourists alike.
But the family recognised that such a stay isn't for everyone. Some require a few more creature comforts. So, they undertook the project of The Vacationer from Skoolie Stays.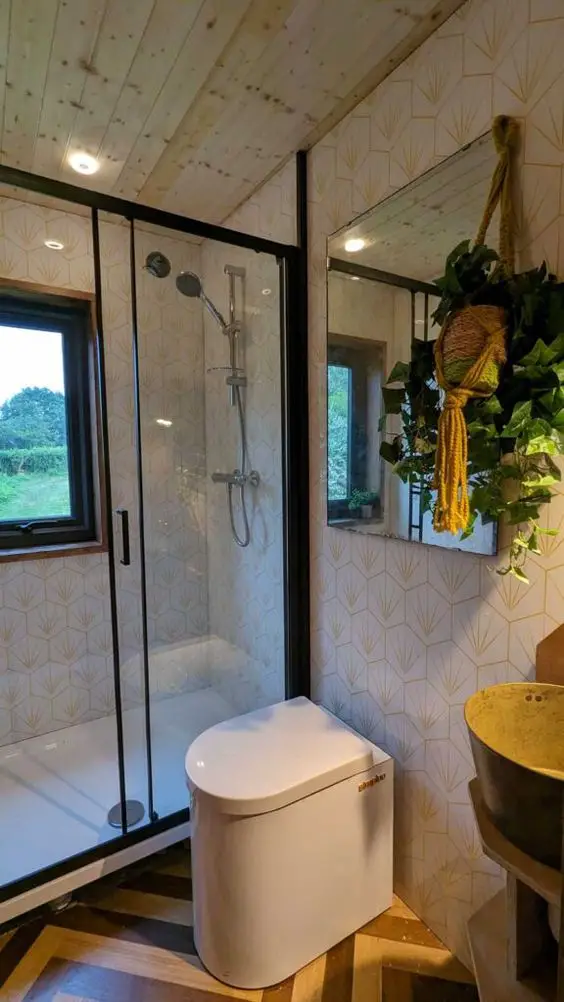 A rural break for city dwellers
Touted as a rural break for guests who love luxury and nature in equal measure, the eco-cabin is stylish, warm and comfortable. The space offers an off-grid holiday that's also carbon neutral. It features:
a rich, jewel-box colour scheme

lush fabrics
hot showers and modern toilets
comfortable, eco-friendly beds
soft lighting
a wood burning stove
a modern kitchen
patio with a view
…and more mod cons. All whilst being off-grid!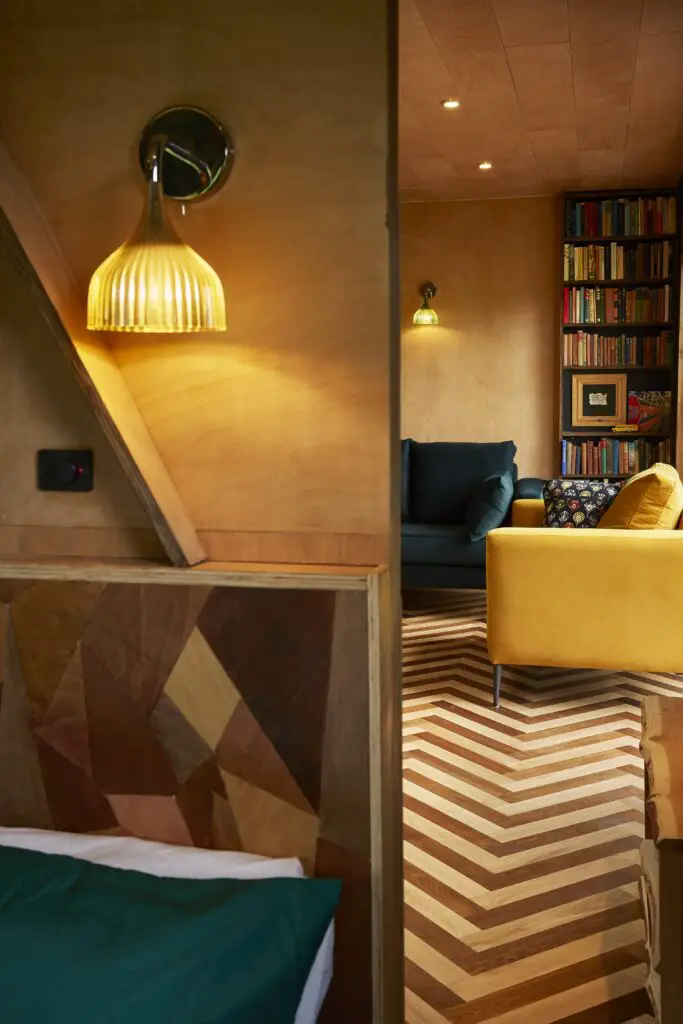 Sustainable woods
When designing the cabin, Skoolie Stays were keen to use British brands that value sustainability. That's why they chose Havwoods woods.
Their entire collection is sourced from sustainably managed forests, making the choice to use wood easy. Skoolie Stays chose striking honey coloured 70mm Pallido Prime Block and auburn hued 70mm Bronze Prime Block boards from Havwoods' Italian Collection.  
See Also

The cabin's rather eccentric appearance comes from alternating the two colours of the planks. The homeowners were particularly drawn to the dark and light tones to create an eye-catching zigzag pattern. They were also impressed with the qualities that engineered wood provides. This material is highly durable and long lasting, and therefore an ideal choice for a busy holiday let.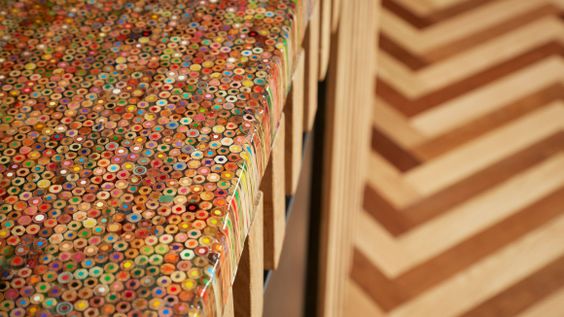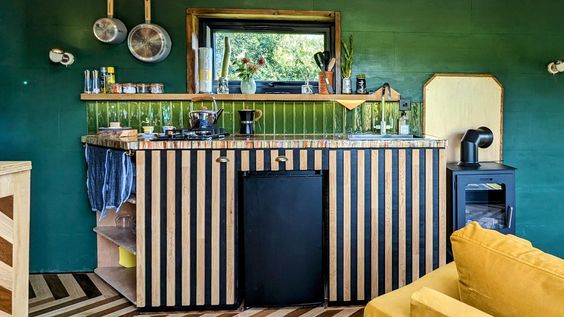 Quirky details
We love how the cabin is full of quirky details. These include unusual slanted shelves, and a breakfast bar which matches the design of the herringbone flooring. Other design features that reflect the varying angles found in the  cabin include a triangular shelving unit in the living room and an A-shaped window in the bedroom.  
Emphasising the 'unplugged' nature of The Vacationist, Skoolie Stays installed a bookcase. Sure, it's wonderful to have books to read on holiday. But this bookcase holds a playful secret. It hides the entrance to a secret second bedroom! How cool is that?
In order to be truly sustainable, The Vacationist from Skoolie Stays isn't just off-grid. It also embraces the circular economy fully.
For example, the eco-cabin features a kitchen worktop made from 2,014 coloured  pencils. These were kindly donated by the parents at Goldstone Primary School in Hove. Scatter cushions that decorate the cabin come from repurposed clothes and curtains. And finally, the recycled wooden headboard for the main bedroom was made from sofa offcuts.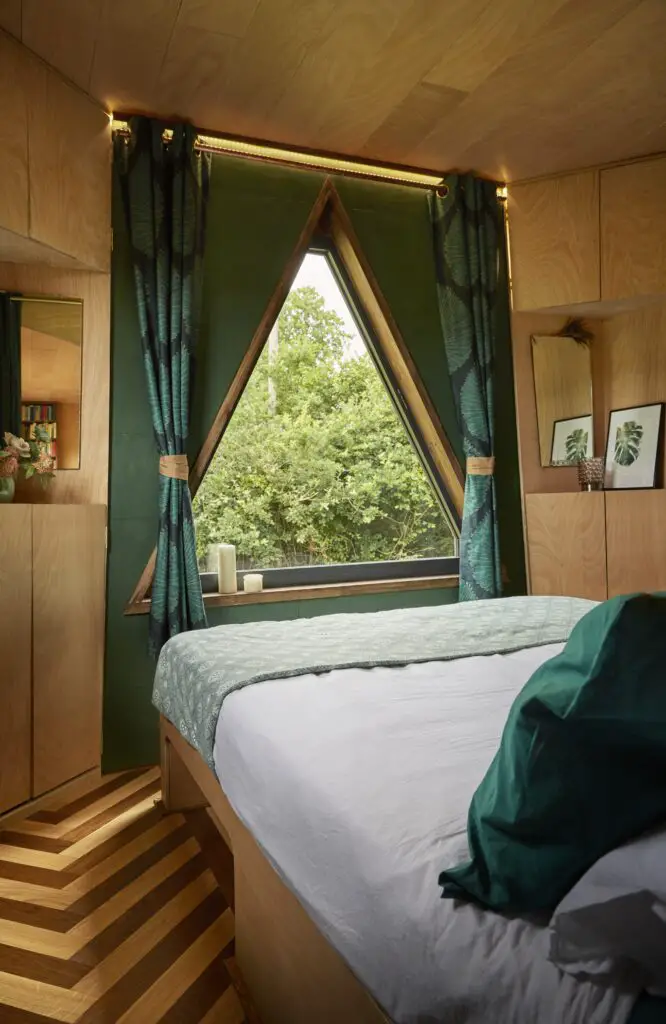 The only thing that's more charming than the English countryside is, perhaps, English eccentricism. And the The Vacationist from Skoolie Stays embodies both, in the most sustainable way possible.
For more information, please click here.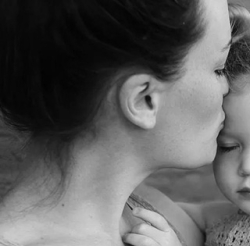 A University of Texas journalism graduate and serious chocolate enthusiast,
Diane
was a sub-editor at the Houston Chronicle before falling pregnant. Today, she is the proud mom of two kids under the age of three, and freelances for Eluxe in between nappy changes and feedings.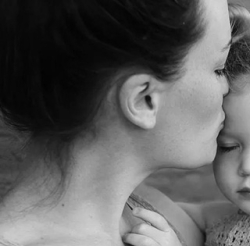 Latest posts by Diane Small
(see all)