10 Healthy, Tasty Stress Busting Recipes

These stress busting recipes are healthy, plant-based, and above all, soothing!
By Lora O'Brien
Sure, you knew that meditation and stress reduction were connected. But did you also know that nutrition can also have an effect on your stress levels?
Yep, that's right: a person living a healthy life and enjoying a balanced diet is far less likely to be stressed than someone with a poor diet. Mainly because certain foods can actually cause stress. Tea, coffee, energy drinks and sugar are the most obvious places to start.  Why? According to Stress.co.uk, these foods contain neuro-stimulators such as caffeine and theobromine, which are proven to heighten stress reactions in the body.
To reduce stress, we need to find a balance of the correct vitamins and minerals, so it's highly recommended to avoid all fast foods and takeaways. These usually lack in nutrition, but provide loads of sodium, sugar and caffeine.
The good news is that there are SO many tasty foods that can help reduce your stress levels. Let's take a look at some of the best ones below, shall we?
The Best Plant Foods to Eat for Stress
Foods containing tryptophan are best for including in stress busting recipes. It has a calming effect on the nervous system, and studies show that argumentative people who consumed tryptophan become markedly calmer and more pleasant: "Tryptophan significantly decreased quarrelsome behaviours and increased agreeable behaviours and perceptions of agreeableness," the researchers noted.
Some foods that contain it are:
Oats
Nuts
Seeds
Fruit
Tofu
Cacao/chocolate
Other foods that can help reduce stress include:
Sweet Potatoes  – The high magnesium and potassium in sweet potatoes helps to reduce blood pressure levels, which is a common indicator of stress.
Avocados – Avos are loaded with B vitamins, which are great for battling against stress and anxiety as they help to nourish healthy nerves and brain cells. Smashed avo on toast, anyone?
Oats – Oats boost serotonin production and help lower cholesterol and blood pressure. This helps improve the health of your heart and reduce inflammation in the body.
Black beans – Black beans are high in magnesium, which helps to relax the nervous system while balancing stress hormones.
Sea vegetables – These add saltiness to dishes, and contain a high level of copper. This helps to regulate blood pressure, thus lowering stress levels.
It's easy to find ways to reduce stress in our everyday lives. But eating right is definitely one of the most most fun! Read on to get some great ideas for what you can whip up to calm both your mind and body.
10 Healthy, Tasty Stress Busting Recipes
1. Sweet Potato Black Bean Enchiladas
This vegan enchiladas recipe is a real winner. It's smoky, hearty and loaded with flavour. The 9-ingredient meal is perfect for creating a Mexican night at home, and the enchiladas are stuffed with black beans, roasted sweet potatoes and kale (a superfood, of course!) and then topped with a tasty enchilada sauce and creamy guac. There's a reason Mexicans always seem so chill – their national cuisine is packed with anti stress vegan recipes like this!
Get the recipe here.
2. One-Pot Vegan Mushroom Stroganoff
This One Pot Vegan Mushroom Stroganoff is a super healthy but hearty twist on a classic! This cozy and creamy noodle dish is sure to be a crowd-pleaser and is just the comforting dish you need to see you through winter. Oh, and did I mention that in addition to killing stress, mushies are packed with zinc, which helps combat colds?
Get the recipe here.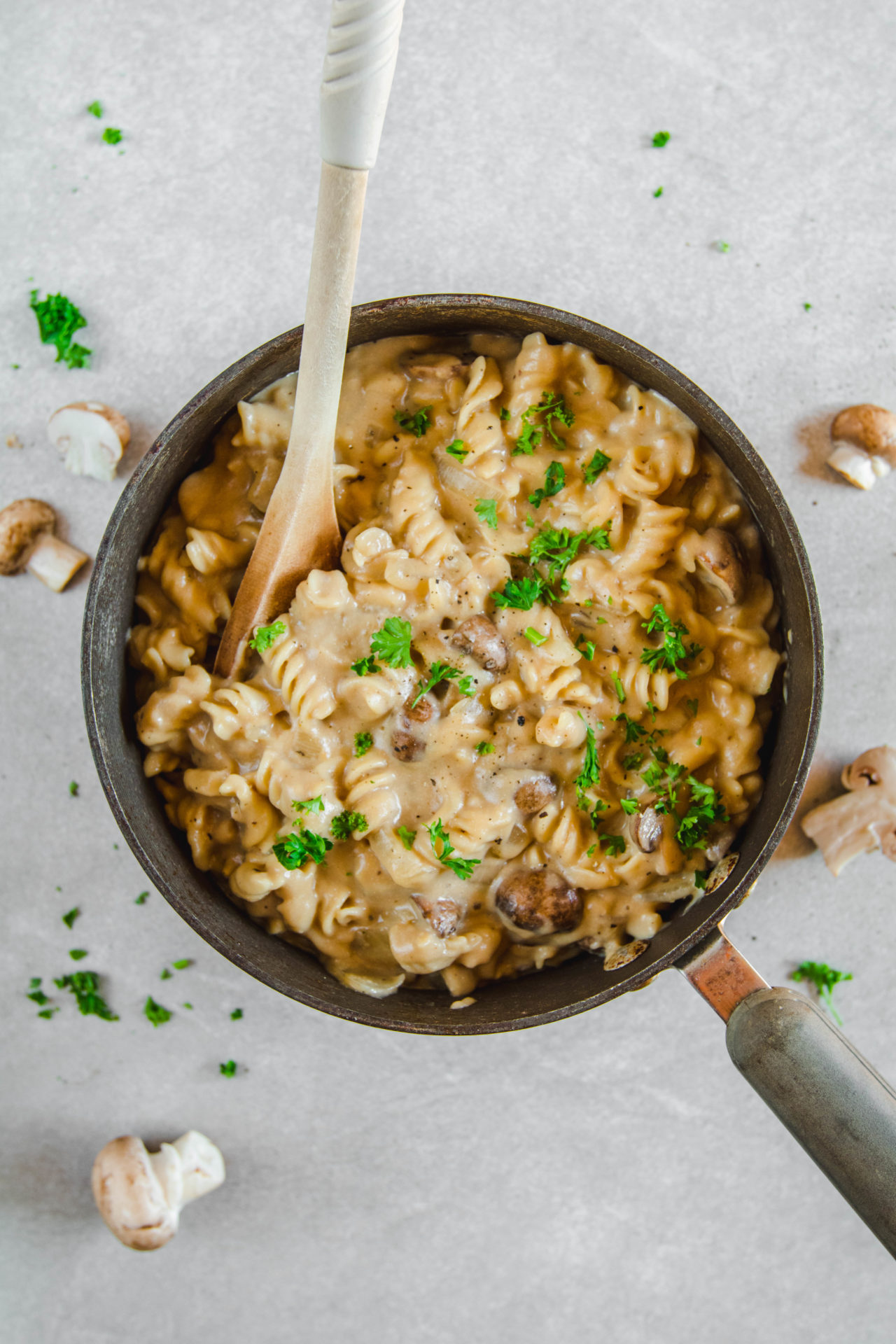 3. Vegan Pumpkin Mac and Cheese
Unlike the traditional mac and cheese recipe that is a heart attack waiting to happen, this veganised version is made creamy thanks to the pumpkin puree and cashew nuts. It's delicious and cosy, the perfect meal for a chilly night. Boost it and drop your stress levels further by wilting leafy greens such as spinach or kale into the mac and cheese, or serve alongside a leafy salad.
Get the recipe here.
4. Sweet Potato, Spinach & Chickpea Slab Pie
This savoury vegan pie is one of the best stress busting recipes for colder weather! It's filled with sweet potatoes, chickpeas and spinach mixed with an abundance of Indian spices go give it a delicious curry flavour. Serve with some green beans and gravy for a real mood-boosting comfort meal.
Get the recipe here.
5. Spicy Seaweed Popcorn
When it comes to popcorn, my favourite kind is definitely of the more savoury variety. Sometimes I like it salted, sometimes I like a little kick. And this is the perfect recipe for when those cravings come knocking which is usually during movie time which is, like, weekly. Do I feel guilty? Nope! This popcorn is super healthy and makes a healthy snack packed with fibre. Plus, it's one of the easiest stress busting recipes to make!
Get the recipe here.
6. Berry Crumble Bars
Satiate your sweet tooth all while helping your body to relax. These berry crumble bars are so quick and easy to whip up, and the perfect way to enjoy stress busting recipes. They're jammy, oaty, fruity and crumbly – simply perfection!
See Also
Get the recipe here.
7. Black Beans & Rice with Avocado Salsa
Did you know that some stress busting recipes are even better for you when combined with a suitable sidekick? Think of it like Batman and Robin. And two of these powerful duos are avocado and tomato. Tomatoes are rich in lycopene, a cancer-fighting antioxidant. And when eaten with a healthy fat such as avocado, this makes its anti-stress qualities easier to absorb into the body.
And don't forget: the black beans here are super soothing, too!
Get the recipe here.
8. Mushroom & Lentil Vegan Bolognese
This vegan bolognese is absolutely loaded with pulses and vegetables! It's delicious, wholesome and super healthy and one that can be enjoyed by the whole family. Not a fan of spaghetti? Bake a sweet potato and top with this bolognese.. so good!
Get the recipe here.
9. Tofu Skewers w/Peanut Sauce
Bring a taste of Asia to your plate! I love these tofu skewers because they're crispy on the outside, soft on the inside, and that peanut sauce? Tangy, sweet and somehow comforting. It makes it one of my fave stress busting recipes!
Get the recipe here.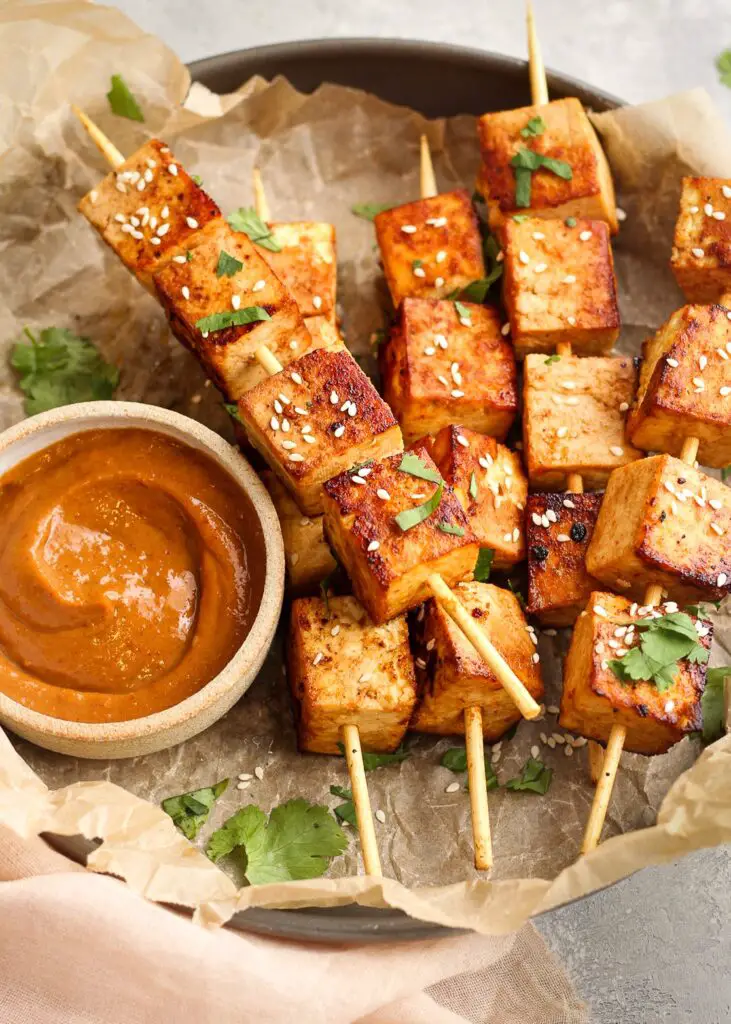 10. Avocado Chocolate Mousse
Turn two stress relieving foods into this decadent dessert. The avocado and plant milk makes it super creamy, while the cacao and vanilla extract make it sweet. Tastes wonderfully sinful, while being good for you. And with only a few ingredients needed, it's one of the easiest stress busting recipes to whip up for dessert.
Get the recipe here.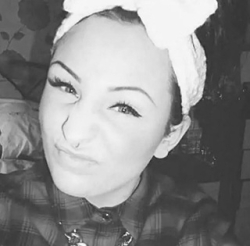 After graduating in Journalism from the University of Greenwich, Lora worked for Sugar and Healing Lifestyles magazines in London before being hired to write about food for Eluxe. She's recently become a new mom to baby Lulla, and is writing a blog about the experience. See more about Lora
here
.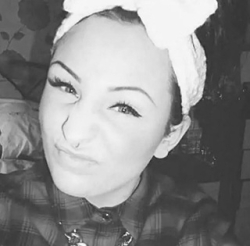 Latest posts by Lora O'Brien
(see all)