10 Vegan Girl Dinner Ideas To Try
These vegan girl dinner ideas are perfect for sharing!
By Lora O'Brien
Thanks to TikTok, #girldinners are now officially a thing.
These informal meals are ideal for people who prefer a variety of foods and a quick, no-cook meal. The "a little bit of this, a little bit of that" quality appeals to people dining solo and busy parents alike.
These finger food meals typically follow the pattern of one or two protein-rich options, plus a variety of types and textures of food, like nuts, fruit, crackers, pickles and olives.
To learn more about the trend, we asked Emma, aka Inspired Foody. She's a multifaceted food blogger, course instructor, and entrepreneur with a passion for simplifying cooking and inspiring action in the kitchen.
Based in Los Angeles and a graduate of Duke University, Emma's expertise lies in top-down recipe videos and captivating food photography. An entrepreneur at heart, Emma has turned her passion into a thriving career. She founded Cuiscene Studio, a culinary content production house.
Here below, she sheds a bit more insight into why girl dinners have exploded.
How would you define what a 'girl dinner' is?
The whole vegan girl dinner trend is like giving a stylish upgrade to our childhood snacking dreams. Imagine cool charcuterie boards stacked with vegan cheeses, crackers, and fruit. Basically, grown-up lunchables that make us feel like kids again. Call it snacking, but make it aesthetic.
What do you love most about girl dinners, yourself?
It's like hanging out at a friend's place! No food rules, just raiding their pantry and fridge for whatever, even if it doesn't go together. Because a) it doesn't matter, and b) it just all tastes better when it isn't coming from your house!
What's the most fun part of a girl dinner, in your opinion?
I love how it really doesn't matter what time of day it is. You can have vegan girl dinner for breakfast, lunch, or dinner! It's become some sort of lifestyle and it's been normalised to just eat a mosh-posh of things that truly taste good. It's amazing for the food connoisseurs and the foodies who aren't so confident in the kitchen. Just makes me think – when and where will boy dinners come out?
What are your favourite girl dinner recipes?
Honestly, it may be controversial, but I've been loving paninis as girl dinners. It kinda just elevates the whole charcuterie board on a bun idea.
Who have you seen following the trend?
So many people! I've seen people following the trend from influencers to famous food accounts! It's something everyone can relate to and a trend for everyone.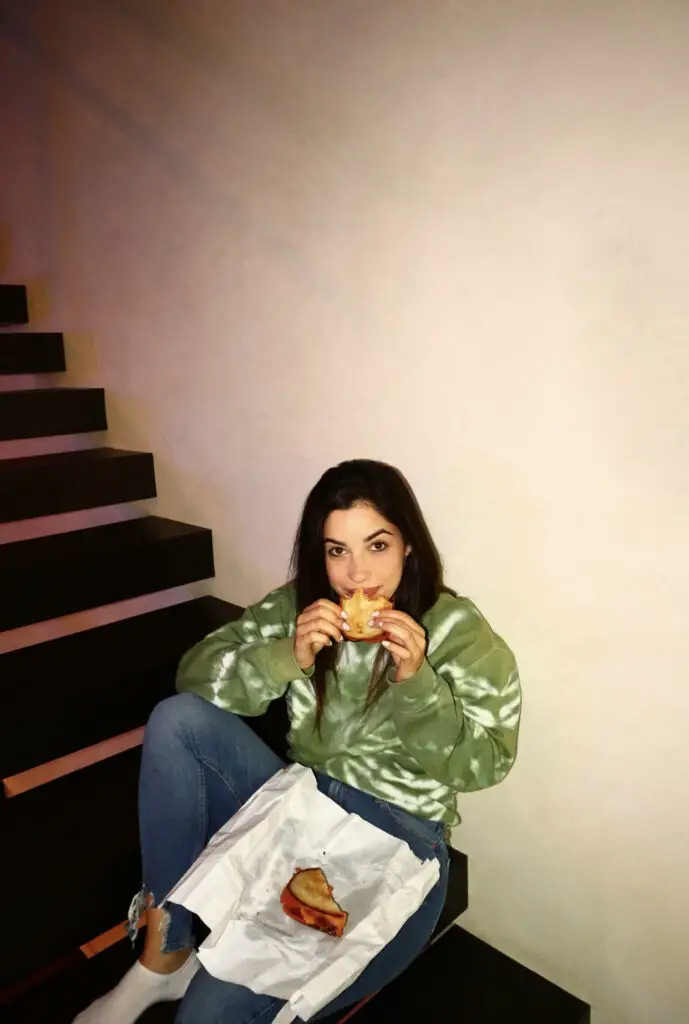 Emma's Tips For A Great Girl Dinner
Start with an assortment of your favourite snack-like foods.
Use a variety of tastes and textures.
Be sure to create a balanced meal.
Use whatever you have on hand.
Eat more fruits and vegetables than carbs.
Anyone can enjoy a girl dinner, of course! Not just women.
The Vegan Girl Dinner Shopping List
So what are the most popular things to reach for when you want to make vegan girl dinner ideas?
Just because the typical TikTok girl dinners often feature meats, cheese and crackers, that doesn't mean you can't take this rend vegan. A vegan girl dinner is about nibbling and noshing whatever tempts your taste buds; it's about nourishing yourself your way. Without the animal cruelty, though!
Here's a shopping list to get you started. Just add this to your normal weekly run and you'll always be ready for whipping up some vegan girl dinner ideas when the need hits.
Hummus, guacamole, salsa
Vegan cheeses and 'meats'
Fruit and vegan yogurt
Olives, pesto and tapenades
Chips, bread sticks, crackers
Now that you know the essential ingredients, let's see what. you can do with them!
10 Vegan Girl Dinner Ideas To Try
1. Deconstructed BLT
A BLT shouldn't be confined to just a sandwich filling. The flavours work well deconstructed in a salad, and this dish is the perfect meal to throw together. Think salty tempeh bacon, tangy tomatoes, and crunchy lettuce tossed in a creamy ranch dressing. It's all so nourishing and delish!
Get the recipe here.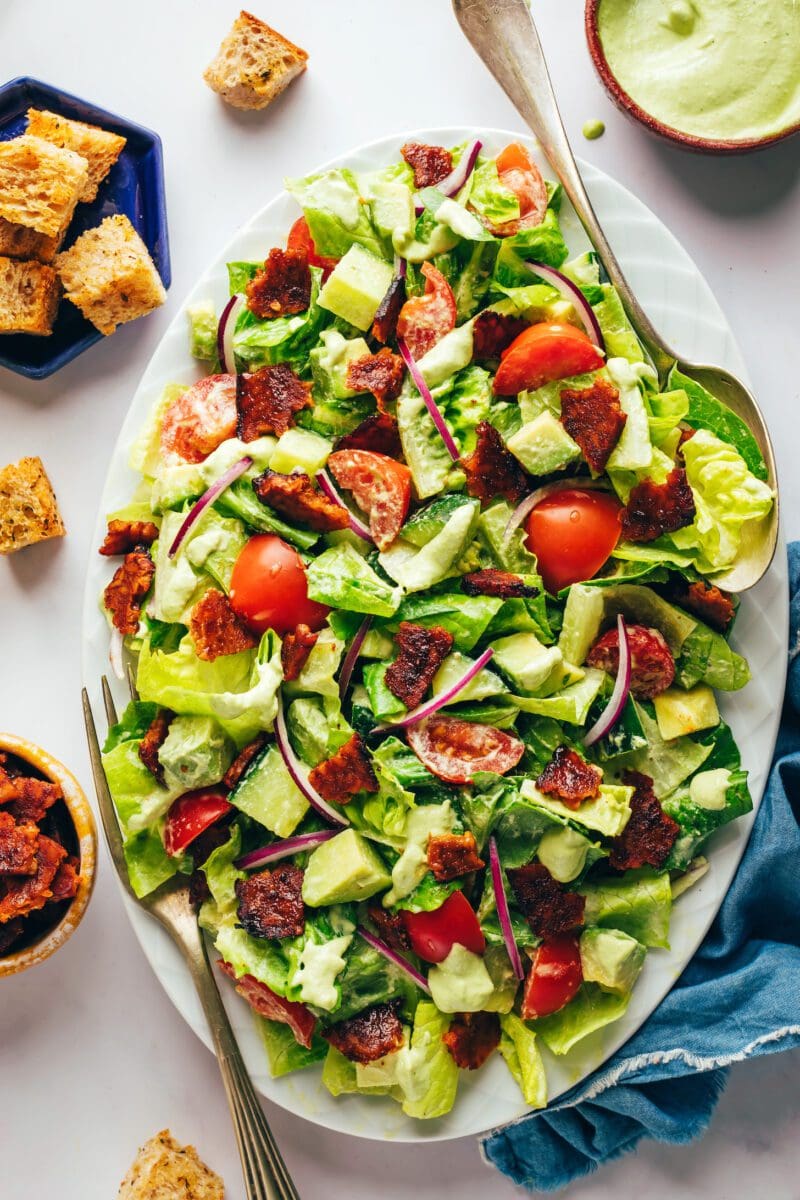 2. Vegan Charcuterie
Why choose one thing to snack on when you can have an array? A charcuterie is a fabulous example of a 'girl dinner' type meal. Fresh fruits, crunchy pickles, vegan meats and cheese and crackers. This is the classic vegan girl dinner idea to try. And with good reason. Yum!
Get the recipe here.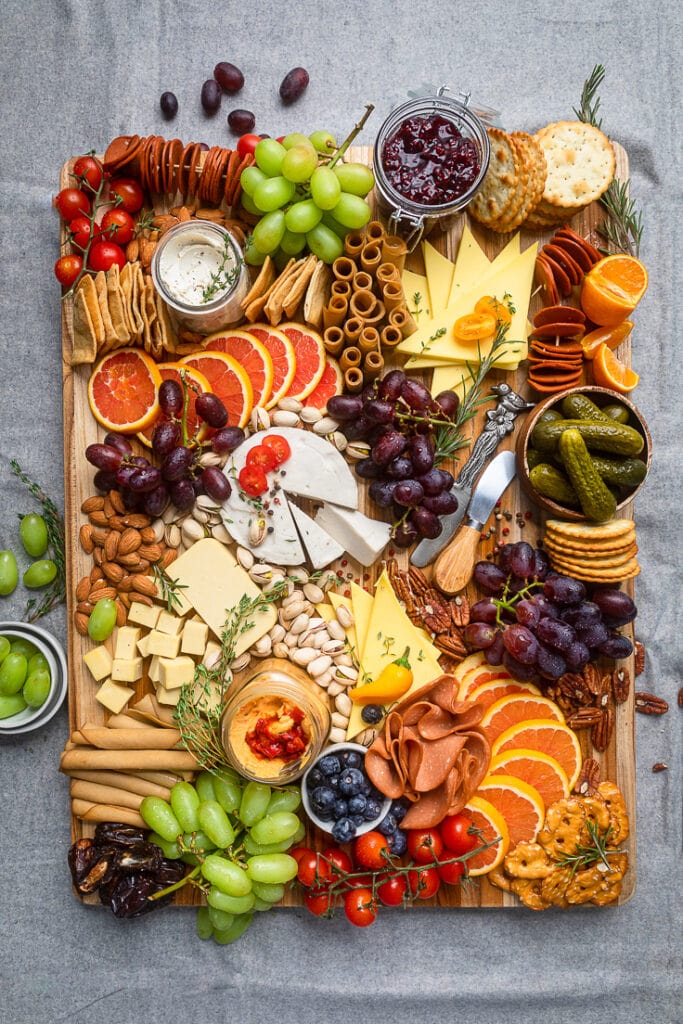 3. Almond Butter Stuffed Dates
A popular girl dinner recipe infuses both the sweet with the savoury, much like these almond butter stuffed dates. The gooey caramel dates and the salty peanut butter are a match made in foody heaven! To make this into one of the best vegan girl dinner ideas ever, you could add some salty popcorn and dairy-free cheeses.
Get the recipe here.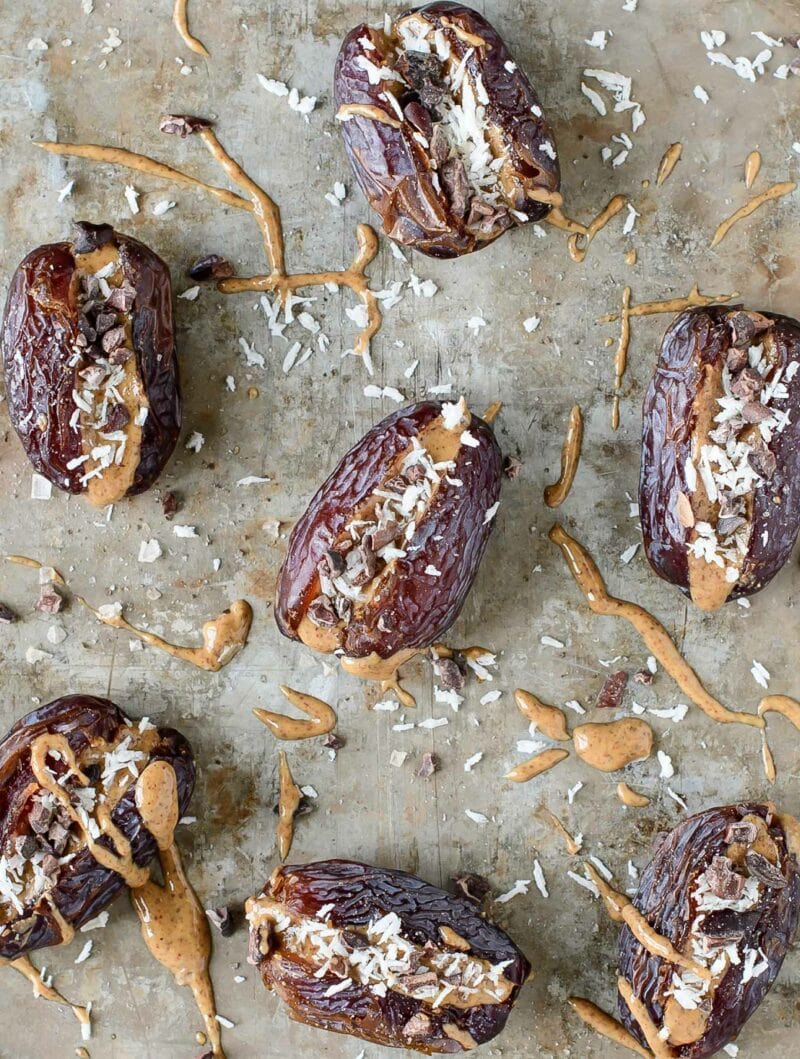 4. Vegan Devilled Eggs
These vegan devilled eggs are seriously tasty. They look, feel, and taste just like real devilled eggs but are instead made entirely from plant-based ingredients! Add these to your vegan charcuterie board, along with some grapes, tempeh and crackers.
Get the recipe here.
5. Avocado Salsa Crackers
Many popular vegan girl dinner recipes involve a snack plate that has some carbs, protein and fats. If you're looking for something simple and convenient, then these avocado salsa crackers are a great snack to whip up!
Get the recipe here.
See Also

6. Hummus & Veggie Plate
If you're looking for vegan girl dinner ideas that don't need cooking or much washing up, this is the meal for you! This plate is super easy to make, and is 100% fuss free! Pair hummus dips with raw veggies, olives, nuts, crackers and fruit for a casual and light meal that's hearty enough to share.
Get the recipe here.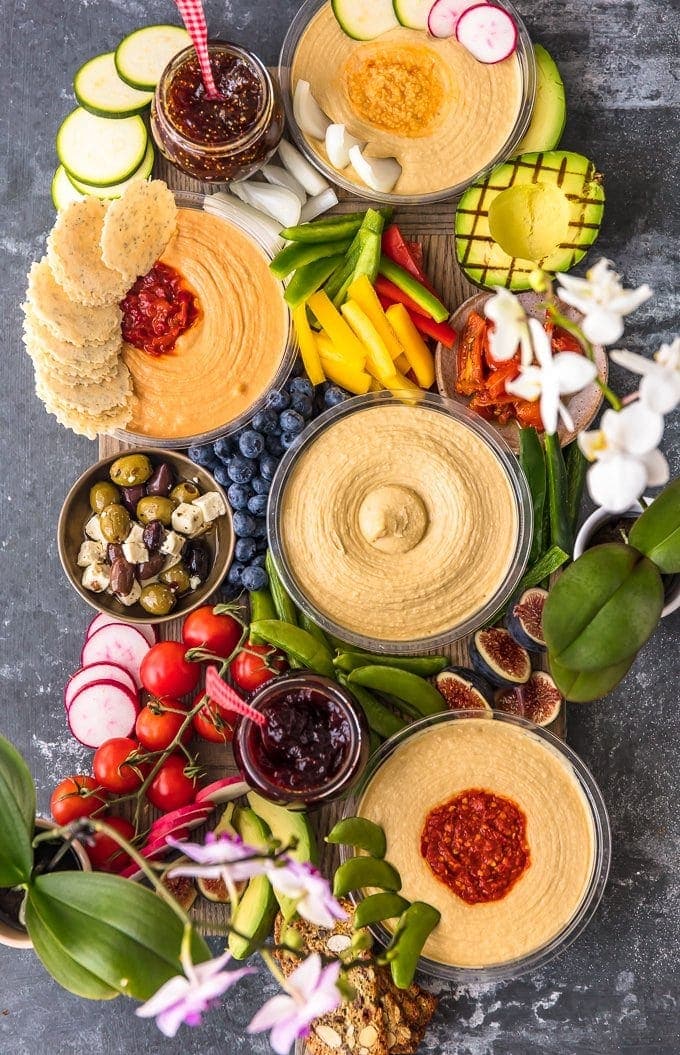 7. PB&J French Toast Sandwich
There's a reason why the PB&J is so nostalgic – because it's a flavour explosion! And this is one of those vegan girl ideas that takes childhood comfort food to the next level. Coconut crusted French toast is topped with caramelised bananas, peanut butter, strawberry jam, raspberries and is finished with some granola.
Get the recipe here.
8. Hot Sauce Mac & Cheese
Mac and cheese is notoriously creamy, so cut through the cheesiness with a little spice! This version is made using whole food ingredients, and is also super cheap to make! One of the best vegan girl dinner ideas for sharing with loads of friends.
Get the recipe here.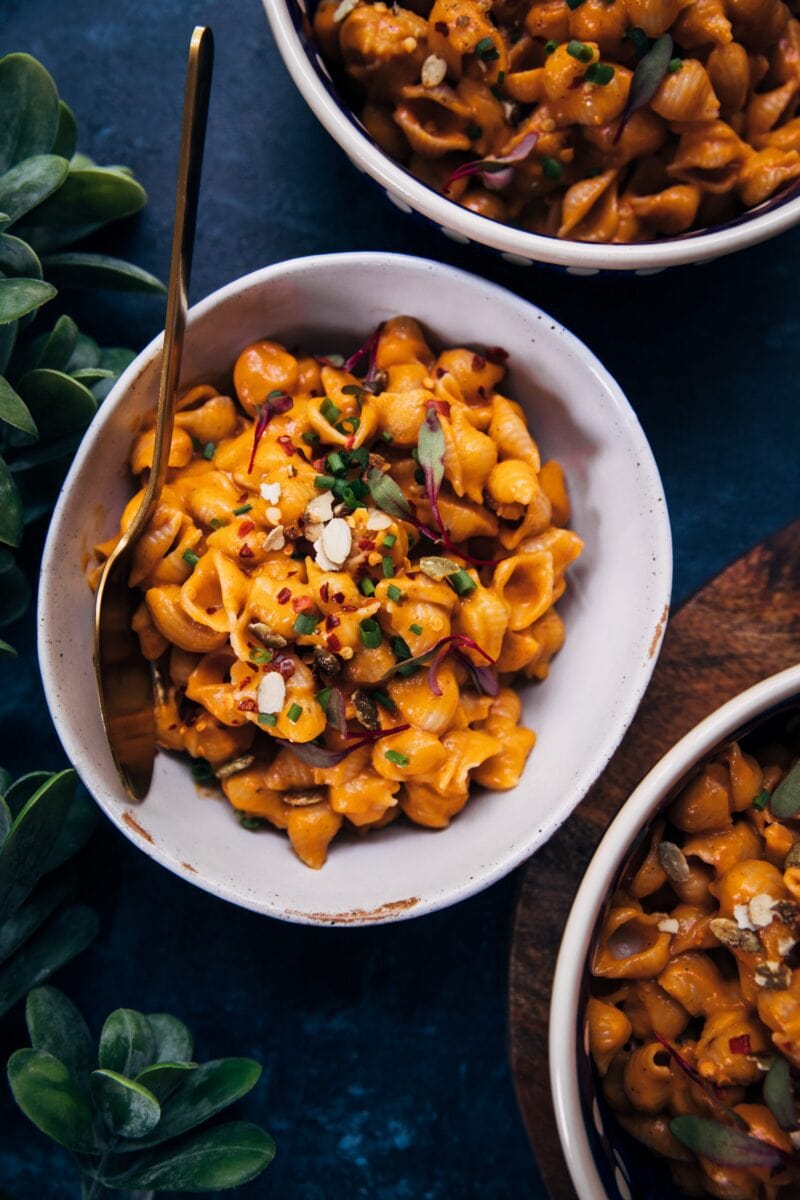 9. Fully Loaded Vegan Nachos
Sure, charcuterie boards are pretty. But nachos offer all that protein, cheese, veg and carbs, all smushed together into one of the most damn delicious vegan girl dinner ideas! Personally, I'd get more salsa one these, and add guac. But I'm greedy like that!
Get the recipe here.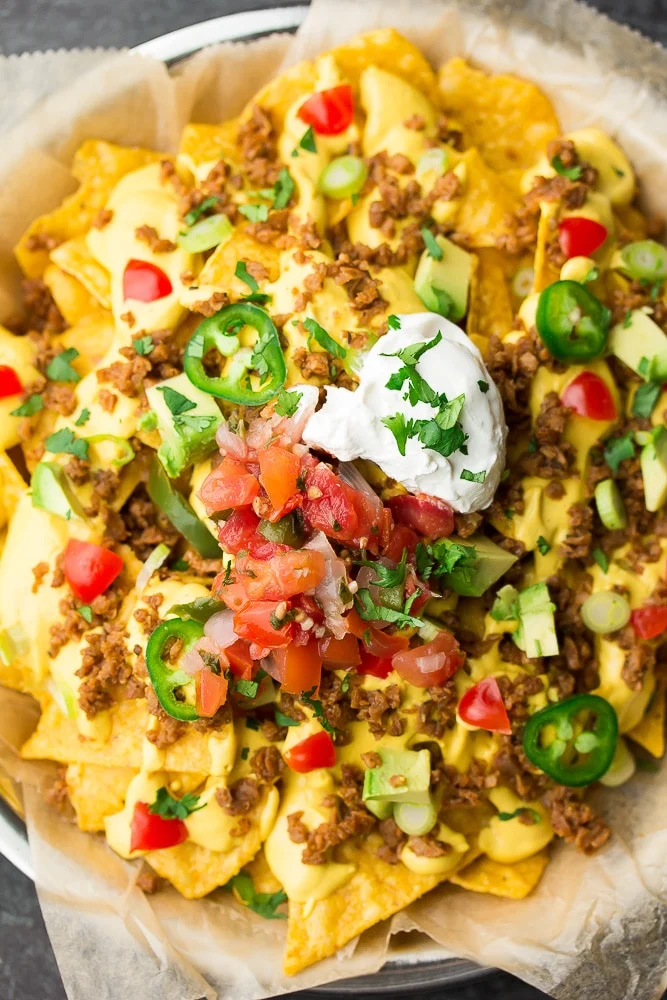 10. Grilled Veggie Plate
If you're looking for vegan girl dinner ideas that are foolproof and a bit lighter than usual, this is the recipe for you! Throw a bunch of seasoned veggies in the oven, cook for around 45mins, and add some tasty dipping sauces. Voila! (Sub in vegan feta to make the cheese dip on this one, though). Bonus: this is 100% gluten free, too.
Get the recipe here.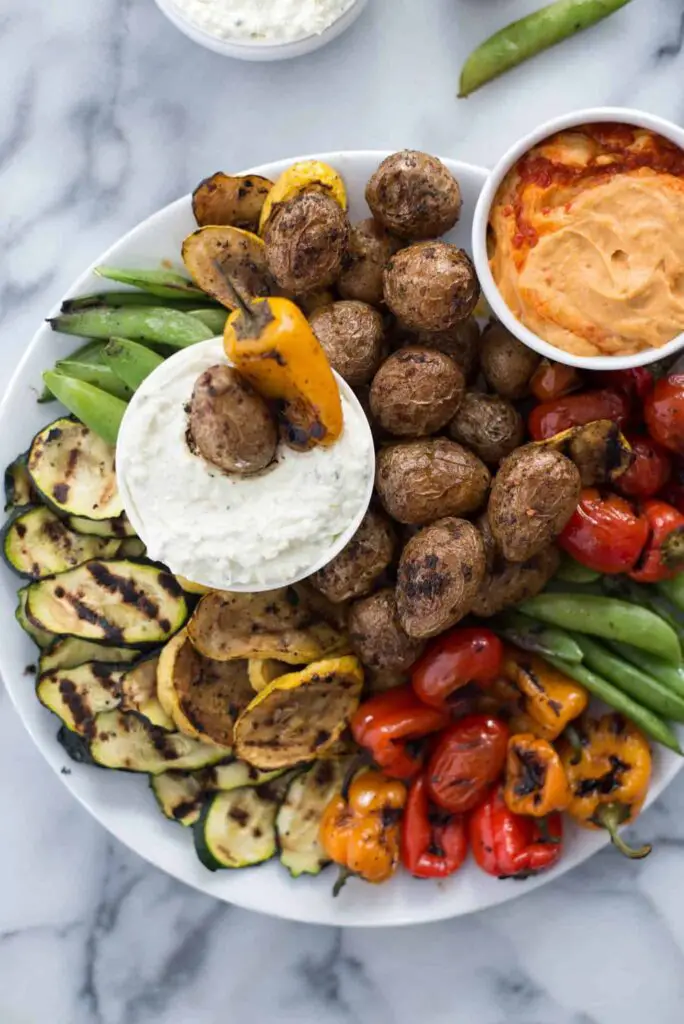 What are your favourite vegan girl dinner ideas? Let us know in the comments, below!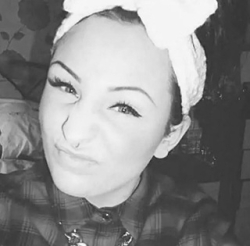 After graduating in Journalism from the University of Greenwich, Lora worked for Sugar and Healing Lifestyles magazines in London before being hired to write about food for Eluxe. She's recently become a new mom to baby Lulla, and is writing a blog about the experience. See more about Lora
here
.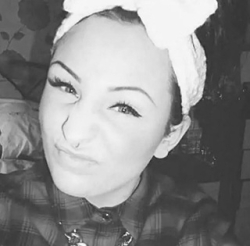 Latest posts by Lora O'Brien
(see all)